I flew to Cairo, stayed in the same cheap hotel at Tahrir Square that I had ended up in December 2009 on the occasion of the Gaza Freedom March and I was very happy when everybody still remembered me. I was travelling with about 40 kg of baggage, a travelling bag - somewhat heavy with emergency equipment like a sleeping bag and an airmattress -, a back pack containing my bicycle, and hand luggage, which contained a notebook and all the charging gear. If necessary I could handle all that by myself.



Sunday, May 16, 2010



I stayed overnight in a beach hotel in El-Arish and on Sunday morning I took a taxi to the Rafah crossing, where I arrived shortly after 9 o'clock. As we approached the crossing, there was a sign above the street which read "Farewell, come back soon", which I found very encouraging, because it was known that coming back could be the more difficult part at this crossing.




There was no activity at the border when I arrived. Shortly after 10 o'clock, a bus arrived and drove into the terminal complex - that incidentally has a very nice elaborate architecture - and soon after I was allowed in and went through baggage checks and the normal permit application procedure. Sometime later I was brought to an office in the back, and not too long after that a very grumpy officer in civilian clothes told that there was no permission for me and that I had to leave the complex. I tried to call my contact person in Cairo, but found out that my telephone was dead. Vodafone had no service in the area.

So I went into the little cafe outside the terminal and pondered what to do next. I asked the cafe owner whether I could use his phone and he gave it to me and I could make contact to Cairo. Quite a few more calls followed on a phone that a student offered me, because I did not generate any extra cost for him, but I emptied his battery to almost zero. After hours I got the idea that I could get a different SIM card and as it turned out the cafe owner actually could sell me one. So I felt a little safer, but other than that nothing happened. Many people were waiting, most of them for relatives to come out. Most of these were stuck for many hours on the other side. Some of the waiting people were Palestinians living in foreign contries and spoke fluent English. This was a great help for me, because most border guards did not speak any English.



bike carrier, telephone helper, waiting girl



The hours passed, nothing happened. It was not all that hot and it was rather interesting to watch what was going on, e.g. to watch a very serious little girl, all dressed up, waiting – as it turned out for a female relative that may have been her mother – very quietly from about 3 p.m. until 10 p.m. when that young woman finally turned up. The little girl went over to her, took her hand and guided her to the waiting car. Not a word was spoken.

Soon after I was thrown out of the terminal my helpful old lady send me one of her little elves to give me some encouragement. It sat down on my thumb, trying to wave me a message and was patiently waiting for me to get my camera ready. I am not very superstitious, but this was definitely a good sign for me, because it was so unusual.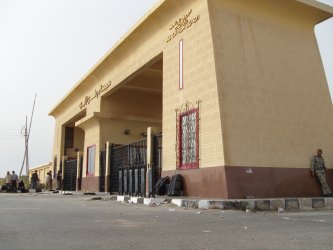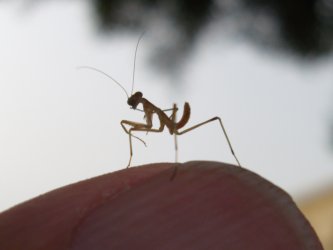 my luggage sitting under the window
visitor on my thumb
The hours passed. At 5 p.m. my contact informed me that she was going home, but that her boss was taking over. He worked on the project until after 8 p.m., not all that happy about it. He apparently contacted increasing levels of the security service echalon. Once in a while he also had me give my phone to one of the guards at the gate. But this did not impress these fellows the least, quite on the contrary, it seemed. The last information was that they would still let me get through during this evening. As it was getting dark very few people were still waiting. Once in a while somebody came out from the other side, immediately surrounded by a mob of porters.
I waited until 11 p.m. and then went back to my comfortable hotel.
Monday, May 17, 2010
I was back again at 9 o'clock, but again the gates were not opened before 10 a.m.. In the meantime my helper (the boss) in Cairo was informing me on his progress. By 11 o'clock he had worked his way up pretty much to the top. Since my permit had been there all the time, things suddenly went very fast and everybody was extremely friendly.